This is life in Canada's youngest and fastest-growing capital city: a diverse mix of cultures, piled atop an Inuit civilisation that stretches back millennia. Nearly two decades after Iqaluit stepped into the limelight as the capital of Nunavut, Canada's newest territory, its residents – many of whom were forcibly pushed into an urban lifestyle that sharply contrasted with their own traditions and cultures – continue to grapple with a key question: how do you carve out a modern city that pays tribute to ancient traditions?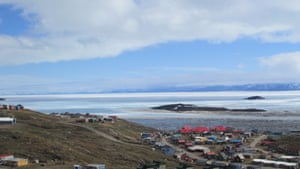 In the Iqaluit region the summer sun sets around midnight, only to rise a few
hours later, and temperatures rise to a balmy 10C. Photograph: Ashifa Kassam for the Guardian
"There's an extreme amount of intergenerational trauma that the next generation has inherited through their ancestors," says Malaya Qaunirq Chapman, a 27-year-old tour guide in Iqaluit. "Now it's the decision of, 'Do I live out the traditions of my ancestors, or do I live out the modern lifestyle that we are forced to conform to?' And how do you meet in the middle, and how do you make the two work together? How do you belong?"
Hints of this tension are strewn about town, from the intricate Inuit sculptures that sit among the city's crop of space-age fibreglass buildings – built without windows at the height of the 1970s oil crisis to save on heating costs – to the igloo-shaped Anglican cathedral.
Iqaluit shot to national prominence in 1995 after it was chosen by referendum to become the capital of Nunavut. The territory, finally formed in 1999, gave Inuit in the region self-rule and control over their institutions. It made Iqaluit the political, cultural and economic hub of a bold Canadian endeavour in indigenous self-government. Amid some of the highest unemployment, suicide and poverty rates in the country, Inuit leaders envisioned Iqaluit as a place from which "made in Nunavut" strategies could counter decades of top-down, western European approaches….
Since it became a capital, Iqaluit's population has soared from some 3,000 people – most of them Inuit – to around 8,000, about 50% of them Inuit. While Inuktitut is spoken by three-quarters of Inuit, English has become the de facto language of Iqaluit. Redfern says knowledge of Inuktitut is eroding quickly: "It's happening from one generation to the next."
Overshadowing all this is the immense task of running a city at the whims of the Arctic. During winter, temperatures in Iqaluit regularly drop below -50C with windchill, while darkness reigns for months. On this year's summer solstice, the sun set around midnight only to rise a few hours later, and temperatures rose to a balmy 10C – prompting all but tourists (and myself) to wander around in T-shirts.
To make matters more difficult, Iqaluit is the only capital city in Canada with no road or reliable ship connections to other parts of the country. For much of the year, all supplies must be flown in, sending the cost of living skyrocketing. In Iqaluit, two litres of milk can cost around C$6.50. A one-litre bottle of Coca-Cola goes for $10.
Three or four times a year, depending on ice conditions in Frobisher Bay, a sealift boats in bulk supplies. In recent years, an estimated 300 cars have arrived in the city every year this way, as well as furniture and building materials for new homes.
As little can get into Iqaluit, little can get out. The city's sprawling open-air dump sits near the causeway, piled with everything from household garbage to plastic pop bottles and discarded construction materials. As Iqaluit marked the longest day of the year, fire crews worked overtime to battle a blaze in the landfill. Some wondered if this was a repeat of the 2014 inferno, an unstable fire raging in a four-storey mountain of rubbish that the locals dubbed "Dumpcano".
As a weary authority struggled to keep up with a city whose population has more than doubled, climate change began to set in. Iqaluit is built on permafrost, with most buildings perched on stilts to avoid any heat transfer between the home and frozen ground; many sewage and water pipes are buried in the frozen ground. Warming temperatures are now shifting the active layers of the permafrost, leading to costly breaks in the pipes. "It's really tough," says Redfern, who estimates that $1bn of the community's assets are now at risk. "We need everyone to really understand that climate change is more than changing ice conditions and polar bears." Read more..