NB: It is utterly ruthless of the Modi regime to have announced a lockdown without giving India's millions of migrant workers adequate notice to prepare for a journey home - a natural desire for anyone person in the face of calamity. It is impossible to implement, but enough to cause havoc in the lives of the poor. It is another example of their callous attitude toward human suffering - reminiscent of demonetisation.
This measure should have been taken weeks ago, with preparation - wasn't there sufficient notice of the crisis in Wuhan? But our great leaders were too busy with their latest divisive scheme:

CAA

, which discriminates between incoming refugees on the basis of their religion. Not to mention

communal violence

in Delhi, stoked up by their political allies. Now what has happened gentlemen? Why not apply the same rule to refugees infected by COVID-19? Isn't Hindu Corona better than Muslim Corona? And how come your 'lockdown' has no effect on the

Chief Minister of Uttar Pradesh

?
Our domesticated mass media are not reporting it, but hundreds of thousands of workers and their families are literally trekking home - on foot. And

this is how

some policemen are treating them. People are

devastated

because there are no buses or trains to take them. Who knows how many of them will reach their villages and in what condition? Doubtless Mr Modi will be hailed as a visionary leader capable of big decisions, but then men like the cobbler in the photo below never were in his line of vision were they? DS
At least 90% of India's workforce is employed in the informal sector, according to the International Labour Organization, working in roles like security guards, cleaners, rickshaw pullers, streets vendors, garbage collectors and domestic helps. Most do not have access to pensions, sick leave, paid leave or any kind of insurance. Many do not have bank accounts, relying on cash to meet their daily needs. Lots are migrant workers, which means that they are technically residents of a different state to the one where they work. Then there is the problem of the floating population: people who do not live in any state for a long period as they move around to find work.
Covid-19: Dangerous situation in Bhilwara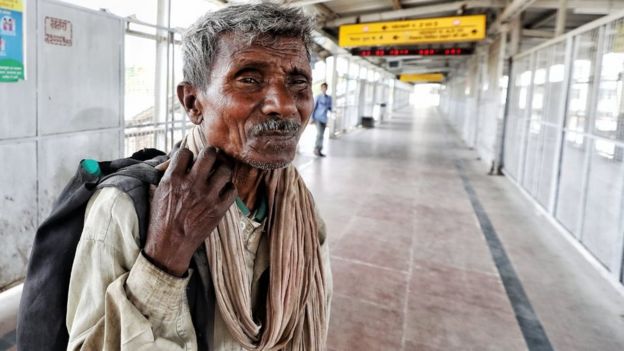 (Source: BBC) The cobbler stands on a deserted train platform. He did not know why the station was empty
Akhilesh Yadav, the former chief minister of Uttar Pradesh, admits these challenges are huge, acknowledging that "nobody in any government has faced them before". "All governments need to act lightning fast because the situation is changing every day. We need to activate big community kitchens and deliver food to people who need it. We need to hand out cash or rice and wheat - irrespective of who comes from which state," he said. Mr Yadav is particularly worried about his state, which is India's most populous, with an estimated 220m residents. "We have got to stop people from travelling to one city from another to avoid community transmission. And one way of doing is to ensure food security. People rush to their villages in times of crisis," he added.
Uttar Pradesh chief minister Yogi Adityanath has said that a team of workers was tracking those who have arrived from other states and everybody who needs help will be supported by his government. Indian Railways has now suspended all passenger services until 31 March. But just days before the suspension kicked in on 23 March, hundreds of thousands of migrant workers travelled in packed trains from outbreak-hit cities like Delhi, Mumbai and Ahmedabad to their villages in Uttar Pradesh and Bihar states.
That has heightened the risk of community transmission and experts fear that the coming two weeks are the most challenging for India. However, not everybody could afford to travel to their villages. Kishan Lal, who works as rickshaw puller in the northern city of Allahabad, said he had not made any money in the past four days. "I need to earn to feed my family. I have heard that the government is going to give us money - though I have no idea when and how," he said.
His friend Ali Hasan, who works as a cleaner in a shop, said he had run out of money to buy food. "The shop shut down two days ago and I haven't been paid. I don't know when it will open. I am very scared. I have a family, how am I going to feed them?" he asked….
https://www.bbc.com/news/world-asia-india-52002734