Victor Jara murder: ex-military officers sentenced in Chile for 1973 death
In Chile, a fascist junta in two years, wiped out 30,000 of the population, imprisoned 200,000 and left 22,000 widows and 66,000 orphans...the operation under the management of Augusto Pinochet, was fired off by a collective comprising the CIA, the State Department and American business interests.
Read about Milton Friedman's contribution

here

.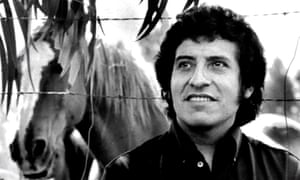 Victor Jara was killed in 1973 in the opening days of the dictatorship of Gen
Augusto Pinochet. Photograph: Fundacion Victor Jara, Antonio L/AP
Eight retired Chilean military officers have been sentenced to 15 years in prison for the murder of popular folk singer Victor Jara during the 1973 coup that installed late dictator Augusto Pinochet in power. A judge handed down the sentences after leading a long-running inquiry into Jara's death on 16 September, 45 years ago, a statement from Chile's courts authority said. Miguel Vázquez sentenced the eight men to 15 years and one day in prison for the murder of Jara and that of former prisons director Littre Quiroga Carvajal. A ninth suspect was jailed for five years for his role in covering up the killings.
Jara, 40, was a celebrated singer, theater director and university professor who sympathized with the socialist government of Salvador Allende, who was ousted in the 1973 coup. Jara's work, and the nature of his death, inspired tributes from artists including Bruce Springsteen, the Clash and U2.
He was detained along with his students, fellow academics and scores of other leftists in a Chilean soccer stadium that has since been named after him. According to detainees in the stadium who survived, Jara's hands were smashed with the butt of a gun and he was badly beaten during his incarceration. When his body was found three days after his disappearance near a cemetery, it was found riddled with 44 bullet holes. His family, including British-born ballerina wife Joan and his daughter Amanda, has fought a long-running campaign for justice in his case and had his body exhumed in 2009 for a full autopsy.
In 2016, a civil court jury in Florida

found another former military official, retired army lieutenant Pedro Barrientos, liable for torturing and killing Jara

. Barrientos, who lives in Florida but whose extradition to Chile is currently under US consideration, was also ordered to pay $28m in damages to Jara's family. The case against Barrientos was filed by the US-based Center for Justice and Accountability, a human rights advocacy group, on behalf of Jara's widow, his daughter and step-daughter. During Pinochet's rule, which lasted until 1990, an estimated 3,200 people were killed and 28,000 tortured by the state.
https://www.theguardian.com/world/2018/jul/03/victor-jara-ex-military-officers-sentenced-in-chile-for-1973-death
see also