Uki Goñi - A grandmother's 36-year hunt for the child stolen by the Argentinian junta
http://nsarchive.gwu.edu/NSAEBB/NSAEBB185/index.htm
Practically all of Argentina has cried on this one," says Ignacio Montoya Carlotto, patting his right shoulder. We are crisscrossing the old cobblestone streets of San Telmo, the colonial district of the capital, Buenos Aires. The 36-year-old musician, his crinkly curls prematurely greying, his mouth fast to resolve into a smile, is not bragging. It's impossible to walk even one city block without someone rushing to hug him and then burst into tears, as he predicted, on his rumpled T-shirt.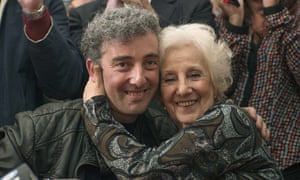 'I begged God not to let me die before I found him': Estela
Carlotto
hugs her grandson Ignacio Montoya Carlotto, son
of her daughter Laura, who 'disappeared' in 1977. Photograph: Leo La Valle/Getty
Maybe it's because, thanks to his grandmother, the whole of Argentina had been waiting – praying – for more than 30 years for the day when he would be "found". Most Argentinians can remember exactly what they were doing when that moment finally came in August last year.
"When I turned 80, I begged God not to let me die before I found my grandson," says Estela Carlotto. Estela has led an extraordinary life, rising from tragedy into one of the most loved and respected public figures in Argentina. It took four more years. "We all cried; everyone has something to say about how they felt to have found this grandson we were all searching for."
Estela was a 47-year-old schoolteacher, housewife and mother of three in November 1977 when a death squad from Argentina's 1976-83 dictatorship picked her daughter Laura off a street in the city of La Plata where she lived, about 32 miles south of Buenos Aires. Laura, a 22-year-old political activist, became one of the thousands of young dissidents who were made to "disappear" by a bloody, fascist regime. Unknown to Estela, her long-haired, strikingly beautiful daughter was three months pregnant at the time of her abduction. She was taken to a secret "detention centre" called La Cacha. There, in her presence, they killed her companion and the father of the child she was carrying, 26-year-old Walmir Montoya.
Ignacio was born in June 1978 while his mother Laura was still in captivity. One report states she gave birth handcuffed and was allowed only five hours with her baby. Two months later, she was dragged out of the camp and a mock armed confrontation was staged by the military. When her body was turned over to Estela, she had been shot through the stomach and her face was smashed, apparently by a rifle butt. Survivors of the camp told Estela about the birth, and that she had named the newborn Guido, after her father.
For 36 years afterwards, Estela devoted herself to finding her grandson. All she had was a name, Guido, and an approximate birth date. An excruciatingly difficult search led her through three decades of legal action against police officers, military officers and doctors involved in the "missing grandchildren" cases. Leads were hard to come by. Her grandson had been swallowed by the complicity and silence that surrounded so many of the regime's horrendous crimes.
Estela realised there were many others like herself looking for the babies of their "disappeared" daughters. They formed a group called the Grandmothers of Plaza de Mayo, named after the city square facing the presidential palace in downtown Buenos Aires where they marched, drawing attention to their plight. By 1989 Estela had become president of the association.
The group believes there are some 500 cases of grandchildren born in captivity. In most cases, the babies were turned over to military families to raise as their own. In the warped thinking of the profoundly Catholic yet murderous generals who ruled Argentina then, it would have been unchristian to kill an innocent, unborn child by executing the expectant mother. By the same token, in their macabre minds turning the babies over to "good" military families to raise as their own represented the ultimate victory over the "godless" left-wing enemy they wished to crush into nonexistence.
Even now, three decades after the collapse of the dictatorship, some Argentinians defend the military's campaign against Cuban-inspired guerrillas in the 1970s, but even the most die-hard reactionaries draw the line at the baby-snatching cases. Each DNA confirmation that a missing grandchild had been found and reunited with their biological family, usually accompanied by legal action against the "mother and father" who had appropriated them, has been greeted with joy across the political spectrum.
Over three decades of work, 113 cases had been resolved by the slowly ageing grandmothers, but despite this, Estela Carlotto's missing grandson remained unaccounted for, which left a deep, unhealed wound in the nation's psyche. Despite being behind the restitution of the grandchildren of so many of her fellow grandmothers, the white-haired, softly spoken woman who had endeared herself as a perennial hopeful for a Nobel Peace Prize for Argentina, and a worldwide symbol of peaceful women's activism, had not yet been able to find her own slain daughter's son. "I am such a well-known public figure," says Carlotto. "Everybody kept asking me: 'When is it going to be your turn?'"
At the time Ignacio Montoya Carlotto still believed he was Ignacio Hurban, the only son of Juana and Clemente Hurban, a couple of humble rural workers who lived near the city of Olavarría on a farm belonging to Francisco Aguilar, a well-to-do, conservative landowner who died last year.
"A few years ago I was watching television with my wife and Estela comes on talking about the search for her grandson," Ignacio tells me. "And I said: 'Look at this poor woman. It's heart-breaking – she's spent her whole life searching, and she may never find him.'".. read more: