When Lisa Campbell arrived in Greece in November 2015 to help care for the flood of refugees she planned on staying for just a few weeks. She ended up running a refugee camp - until it was suddenly closed last month. What made an American Mormon grandmother of six leave behind her family and her job to deal with the chaos of Greece's refugee crisis?
Like most people in the US, I hadn't been aware of the scale of the refugee disaster until the pictures of three-year-old Alan Kurdi washed up on a beach started being shown on US news in 2015.
But it wasn't until I actually got here and saw for myself the piles of life jackets and the boats stacked on the beach that the magnitude of it really hit me. I had taken a leave of absence from my job and planned to be in Greece for 45 days. My assumption was that I would find people who were housed, fed, and had basic services available.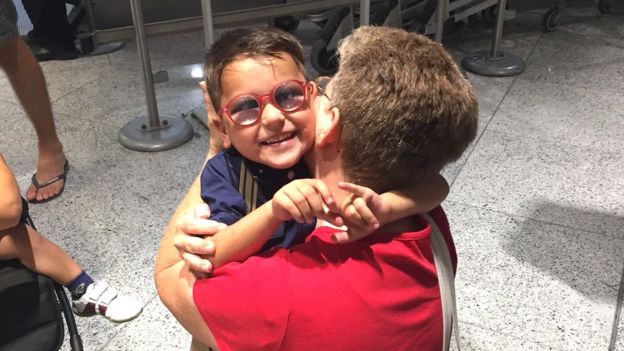 Lisa Campbell hugs Mustafa, a young resident of the camp, as he prepares to leave
That first morning on the island of Lesbos, I went out on my balcony and I could see nine boats coming across from Turkey already. You hear people say that the boats are overloaded, but to see 50 people get off of a boat that would be full with 10 is overwhelming. I can't tell you how many times people would get off the boat and literally kiss the ground. That grabs you...
It was hard to wrap my head around what I was seeing. I was horrified at the stories that I heard. I was also happy to be able to help, happy to see that these children, once you got them into some dry clothes, were still looking for the first toy they could find. There's probably not an emotion that I didn't experience, standing there day after day on the shore, watching the boats come in. And that's how my journey in Greece started.


When I got to the refugee camp in Oinofyta, on the mainland north of Athens, there was nothing there - just tents and army catering. I had no refugee experience, but I'm a do-er. After Hurricane Katrina, I helped start a non-profit called Do Your Part. We had worked in disaster zones before, but this was our first refugee crisis. I just started doing. I organised, planned, and built...read more: