NB: Dear Londoners - yours was the city I first experienced as 'abroad', way back in 1972. I always felt it was a home away from home. My heartfelt condolences for the bereaved families of Grenfell Tower. For some reason the photo of the firefighters below brought home to me the enormity of this tragedy. My salaams to them. The criminal negligence of the Tory leaders and austerity-mongers must be exposed and punished. All they care about is power, privilege and money. This is inhumanity masquerading as politics. We need global solidarity to fight them off - Dilip
Death Toll From London High-Rise Fire Climbs To 79, Police Say
Jane Martinson - A question for a dystopian age: what counts as fake news?
Firefighters left 'truly traumatised' by Grenfell Tower blaze
London firefighters in tears at 'truly horrible and shocking' Grenfell Tower blaze
Behind this disaster lies a brutal indifference to the lives of the poor
London firefighters who fought the Grenfell Tower blaze before they went off duty.
Photograph: Daniel Leal-Olivas/AFP/Getty Images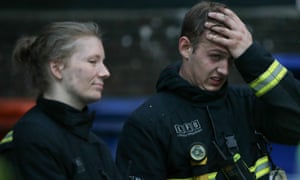 Grenfell Tower
rose into the horizon I could see from the bedroom I had occupied since infancy, just as I prepared to leave home in the early 1970s. It spliced the view from the slope of Notting Hill of the Westway flyover towards Shepherd's Bush, at the rougher end of the area in which I grew up, and where I counted good friends and neighbours, people I could watch QPR with and visit in the squats they occupied along Latimer Road.
Last Thursday evening my mother and I looked out from our stairway landing at what is now the outrageous crematorium on the skyline. By Friday morning I'd counted only a couple of hours' sleep, as the hollow eyes of charred
Grenfell Tower
stared through the window; the nights haunted with ghosts of those missing – some from my local pub – and with grief and rage. The rage is carried on those questions that mostly focus on the Royal Borough of Kensington and Chelsea – RBKC – the body that claims to govern the neighbourhood, and which supervised vast change to what has become, since the tower was built, Britain's richest borough. The questions also target a whole culture, the toxic language and political premises that brought those changes about, and which in their way exposed Grenfell Tower's inhabitants to a fiery death one dare not imagine, but now must.
I was born in 1954, a block away from where mum now lives, on the street in which Jimi Hendrix would die in 1970. These were ramshackle streets then, peeling stucco and rows of bells beside front doors. A contemporary free glossy magazine called
The Hill
describes the neighbourhood of my youth to its wealthy readers as "a no-go area for sure". That's not how I remember things; I think Notting Hill was a special place to grow up. It had its well established white working class, many of whom lived in poverty described by the politician Alan Johnson in his memoir. It had been largely built by the Irish, who had begun arriving in the mid-19th century and continued to do so. It was settled in the 1940s by refugees from General Franco's uprising against the Spanish republic, and during the 50s by those arriving from the West Indies on boats such as the
Windrush
, shipped by then minister of labour,
Enoch Powell
, to provide a cheap workforce… read more:
https://www.theguardian.com/uk-news/2017/jun/17/apartheid-notting-hill-grenfell-tower-development-social-cleansing
London fire brigade boss: 'It was a massive risk, but it's our job to go in'
It is likely that the horrors of the Grenfell Tower blaze will linger in the minds of the firefighters for years to come. "They did absolutely everything they could to get as many people as possible out, but you can't help feeling, 'What if?' ..
Revealed: the tower block fire warnings that ministers ignored
Local councils are still failing to carry out emergency tower block inspections