Two Turkish teachers who are on their 75th day of a hunger strike have been detained by police in Ankara. Nuriye Gülmen, a professor of literature, and Semih Özakça, a primary school teacher, have been on strike for more than 10 weeks after losing their jobs following
the failed coup
against the president, Recep Tayyip Erdoğan, last July. Surviving on a liquid diet of lemon and saltwater and sugar solutions, the pair have lost significant amounts of weight and doctors said this month that their health was deteriorating. A source close to the strikers said their muscles had atrophied.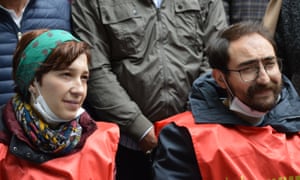 Nuriye Gülmen and Semih Özakça on Sunday. Photograph: Altan Gocher/Barcroft Images
Police are concerned the strike will become a "death fast" rather than a hunger strike. The detention appears to have been motivated by fears that the strike could be taken up as a cause celebre and evolve into a larger movement like
the Gezi park protests in 2013
, when hundreds of thousands of people protested against plans to build a replica Ottoman barracks in central Istanbul. Gülmen tweeted a message of defiance shortly before the detention, saying:
"Political department police are trying to enter the house. They are now breaking the door. Damn fascism! Long live our hunger strike resistance! We want our jobs back! We have not and will not surrender!"
A lawyer, Selçuk Kozağaçlı, tweeted that the two hunger strikers were tired but well, although he said they had been "knocked about quite a bit" during the arrest.
On Monday morning riot police were present near the homes of the hunger strikers, and officers responded aggressively to protesters who had gathered there to voice their anger at the arrests. Minor scuffles led to police officers pushing protesters to the ground and detaining a number of them. The Turkish government
has grown increasingly intolerant of dissent
, and the purges and arrests in the wake of the coup attempt have gone beyond the movement that orchestrated it to encompass dissidents of all stripes. Tens of thousands of workers in the police, military, academia, judiciary and civil service have been dismissed, many without evidence of links to the coup plotters or an option to appeal.
Erdoğan narrowly
won a referendum last month
that gave him sweeping new powers, but the close result highlighted the rifts in a polarised nation. On Monday the trial opened of more than 220 people, including more than two dozen former Turkish generals, accused of being among the ringleaders of the attempted coup. It is one of many being held across the country in the biggest legal process of Turkey's modern history. The charges against the alleged plotters include "using coercion and violence in an attempt to overthrow" the government, "martyring 250 citizens" and "attempting to kill 2,735 citizens", Hürriyet reported on Sunday.
Also on Monday, Amnesty International published a report on the extent of the purges, which it described as "
professional annihilation
". Those dismissed faced social stigma and marginalisation and had lost their pensions and passports, it said. They were living off savings or handouts from relatives or trade unions, or working in the informal economy. One former university professor described it as a "civil death". Andrew Gardner, Amnesty's
Turkey
researcher, said: "The shockwaves of Turkey's post-coup attempt crackdown continue to devastate the lives of a vast number of people who have not only lost their jobs but have had their professional and families lives shattered. "Cutting 100,000 people off from access to work is akin to professional annihilation on a massive scale and is clearly part of the wider political purge against real or perceived political opponents."
Amnesty said the arbitrary nature of the dismissals suggested "widespread abusive and discriminatory motives behind the purge". None of the 61 people interviewed by the rights watchdog said they had been given a reason for their dismissal other than an allegation of links to terror groups. A former soldier who was stationed on the other side of the country from where the coup attempt took place told Amnesty: "I was regarded as a hero by society. Now I'm seen as a terrorist and a traitor."