Clarkston, a small town in
Georgia
, has received over 40,000 refugees over the past 25 years. They come from every corner of the globe. This year there are more Congolese than Syrians; past waves of refugee resettlement have brought Bhutanese, Eritreans, Ethiopians, Somalis, Sudanese, Liberians, Vietnamese. All have landed in an otherwise unremarkable city in the Deep South, pop: 13,000.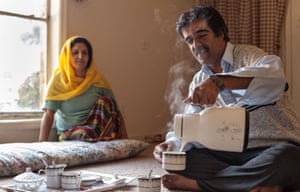 Hekmatullah, an Afghan refugee, pours chai as his wife Waheeda watches on. Hekmatullah worked as a journalist for 25 years before coming to America. Photograph: Jessie Parks for the Guardian
Look beyond the 1970s strip malls, apartment complexes and parking lots, and there are sights rarely seen elsewhere in America. Beige storefronts are topped by signs in Amharic and Nepali scripts, with evocative English translations: Balageru Food Mart, African Cultural and Injera Grocers, Numsok Oriental Grocers. Women gather nearby wearing bright African headscarves, and others cross the street in traditional Asian silk dresses, long black hair braided down their backs.
But foreigners are not the only migrants to Clarkston. The self-proclaimed
"Ellis Island of the south"
is now seeing not only refugees and poor immigrants arrive. Its reputation has prompted a swell of middle-class professional Americans, who – in the words of the city's 34-year-old mayor, Ted Terry – are "in search of all the trappings of diversity". Terry, who has a hipster beard, checked shirt and odd socks, was welcoming a delegation from the Middle East, who had come to see how Clarkston manages its diverse refugee community. "My goal with Clarkston is to showcase it," he explained. "I didn't make this place a compassionate community – yes, we enshrined it in an official way, but it was a compassionate and welcoming community long before I got here."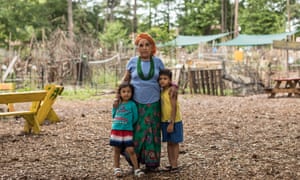 A refugee woman and her children inside the Friends of Refugees community garden in
Clarkston, Georgia. Photograph: Jessie Parks for the Guardian
How does this happen? How does a dusty, working-class city in the south not only manage to house 1,500 refugees per year, but make their welcome integral to the town's sense of identity? It turns out the story of Clarkston is not just about who is being welcomed: it's also a story about who is doing the welcoming. In the corner of Clarkston's downtown parking lot is a bright red food truck selling artisanal coffee, the kind of sleek minimalist outfit that would not look out of place in San Francisco or New York, under the logo reading "
Refuge Coffee
". It was founded by a recent American arrival...
read more:
https://www.theguardian.com/us-news/2017/may/24/clarkston-georgia-refugee-resettlement-program