Police Drag Priests, Women Into Buses During Protests Against Delhi Church Attacks
NEW DELHI:
Hours after a massive protest in Delhi, which saw the police dragging priests, nuns and even children into buses, Home Minister Rajnath Singh promised to increase security around churches and set up a proper investigation into recent attacks in Delhi.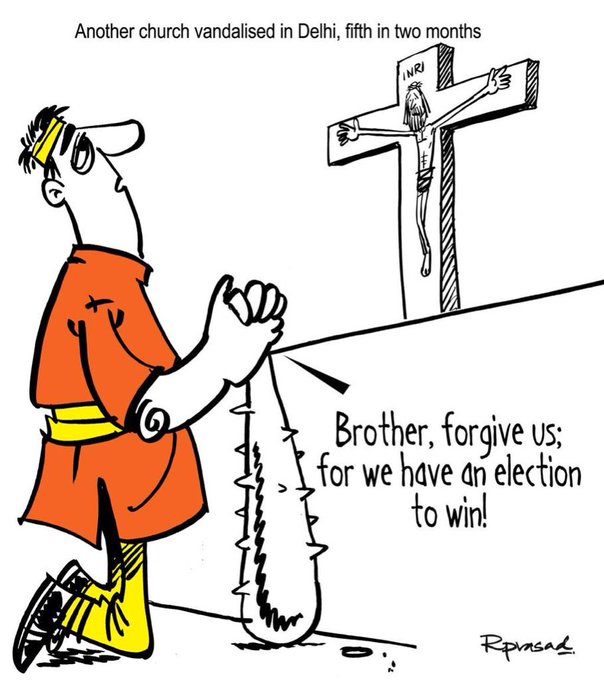 A large number of policemen swooped down on the protest this morning outside the Sacred Heart cathedral in central Delhi. Some activists alleged that they were assaulted by the police.
Father Dominic Emmanuel, a spokesperson of a Christian body, was also dragged into a bus. "I told the home minister that this is happening under the BJP," he told reporters after meeting Mr Singh.
Catholic Priests From Vatican Denied Indian Visa
The home minister tweeted his response: "I assured them that the present dispensation would never tolerate any discrimination in the name of caste, colour, language or religion."
A disproportionately large police force outnumbered protesters this morning and the commotion caused traffic jams in the busy commercial area not far from top government offices, the Parliament building and ministers' homes.
Activists, some of them holding crosses and rosaries, chanted "We want Justice" and held up posters that said: "Stop violence against Christians."
In their meeting with the home minister, the protesters complained that the police had downplayed the five church attacks in Delhi since December.
In the latest incident on Monday, St Alphonsa's Church in south Delhi's Vasant Kunj was vandalised. The police called it robbery and even filed an FIR or First Information Report citing a break-in.
Rajnath Singh today assured that a case of "inciting communal violence" would be added.
Five members from Christian groups and five senior police officers will hold consultations on church security.
A church in west Delhi's Vikaspuri was vandalized last month. The police said three men caught on camera and arrested were drunk and attacked the church on a dare.
"If this is happening in Delhi, then what could be happening in the interiors of Chhattisgarh and Madhya Pradesh?" activists asked the home minister.
"The last case of vandalism at Vasant Kunj disturbed us the most. The thief entered the church, did not touch anything expensive, went and desecrated the altar, the holy communion," said activist John Dayal.
http://www.ndtv.com/delhi-news/police-drag-priests-women-into-buses-during-protests-against-delhi-church-attacks-737196?utm_source=ndtv&utm_medium=top-stories-widget&utm_campaign=story-3-http%3a%2f%2fwww.ndtv.com%2fdelhi-news%2fpolice-drag-priests-women-into-buses-during-protests-against-delhi-church-attacks-737196
Dear Friends,

The high-handedness and victimisation by the Delhi police, of peaceful protesters demanding action against vandalism in Delhi churches in the recent weeks, comes as a shock to us. The same police which remained a mute spectator when the churches were being vandalised, is beating up and thrashing people demanding action against the Hindutva miscreants.

The Delhi Police comes directly under the Union Home Ministry and the Christian groups in Delhi had organmised a Peace March today upto the office of the Home Minister Mr. Rajnath Singh. Not only the Delhi police has been dishing out ridiculous and irresponsible statements justifying its inaction against the miscreants, it resorted to beating and thrashing peaceful protesters today in the national capital.

Please assemble tomorrow (Friday, Feb 6) at 4pm at Jantar Mantar to demand immediate action against the fanatics vandalising churches in Delhi.


Contact:
Kumar Sundaram 9810556134
Mansi Sharma: 9818809018