'Resign!': Alexander Lukashenko heckled by factory workers in Minsk // 'We will win': vast Belarus rally adamant Lukashenko must go
Alexander Lukashenko's grip on power in Belarus has taken a further hit, as workers heckled him during a visit to a factory on the outskirts of Minsk. The visit to the the state-owned MZKT military vehicles factory on Monday was meant to show the Belarusian president was still in control and retained the support of workers at the vast factories that are the backbone of the country's neo-Soviet economy, a day after the

biggest rally in the country's recent history

against his rule.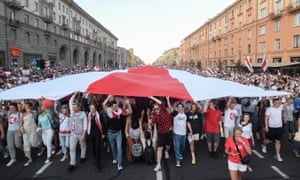 Photograph: Yauhen Yerchak/EPA
'We will win': vast Belarus rally adamant Lukashenko must go
Instead, leaked video and audio from his speech to selected workers at the factory showed him being met with shouts of "Resign!" Lukashenko looked shaken but carried on speaking, as people yelled "liar!". The president arrived at the factory by helicopter, presumably because of safety concerns.
In a defiant speech, he told the crowd that he would not consider a rerun of last week's tainted elections. "You are talking about unfair elections and want to hold fair ones," he told the crowd, which yelled "Yes!" in response. "My answer to you is: we held elections, and as long as you don't kill me, there won't be any other elections."...