Former residents and environmental campaigners to launch a lawsuit against Pentagon's plans to use the Marianas islands for bombing practice -
by Justin McCurry and Daniel Lin
Even here, in a region bursting with natural beauty, it is hard to imagine a more idyllic scene than Green Beach on Pågan island. Azure waters roll ashore before disappearing into the volcanic sand on a perfectly shaped horseshoe beach; on the horizon, cliffs plunge into darker open water that stretches, unhindered, more than 1,600 miles to the north-east coast of the Philippines.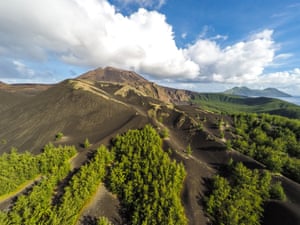 Aerial view of Mount Pågan and the surrounding areas that have
been designated as 'impact areas' by the military. Photograph: Dan Lin
But in just a few years, Pågan's tranquility could be shattered by the sound of heavy artillery, ending any hopes the displaced people of this 10-mile-long speck in the western Pacific have of returning to their ancestral home, more than three decades after a volcanic eruption forced all 300 residents to flee.
According to
plans outlined by the US Department of Defence
, as many as 5,000 marines will descend on the island to conduct war games as part of the Obama administration's pivot towards the
Asia-Pacific
.
The exercises will not only make human settlement impossible; campaigners say it will lead to the destruction of ancient cultural relics and threaten wildlife, including indigenous endangered animals such as fruit bats and tree snails.
The marines will be among more than 8,000 who are due to be relocated to Guam and Hawaii from Okinawa as part of a controversial agreement between Washington and Tokyo to reduce the US military footprint on the southern Japanese island.
Faced with the near-certain destruction of their homeland – part of the US Commonwealth of the Northern Marianas – dozens of former residents have joined forces with environmental campaigners to launch a lawsuit they hope will expose the folly of the Pentagon's plans to transform Pågan and Tinian, an inhabited island 200 miles to the south, into simulated theatres of war.
Gus Castro lived on Pågan between the ages of one and five, when he and hundreds of other residents were forced to flee after the catastrophic volcanic eruption of 1981.
He spent much of his life growing up on Saipan before returning to Pågan in 2000 to perform work as a local guide and camp manager for US military contractors that had been sent to build volcano sensors, a communications tower and other facilities. Other former residents lived alongside him on the island intermittently, supported by supplies approved by the mayor of the Northern Islands.
"When I'm living on Saipan, I eat unhealthy food, I drink alcohol and I smoke," says Castro, a youthful-looking man in his early 40s who this summer joined a photographer, other former residents and campaigners on a visit to Pågan. "In all the years I've spent on Pågan, I've never been sick once."..
read more (and see photos)
: