For
Christopher Filardi
of the American Museum of Natural History, there is nothing like the thrill of finding a mysterious species. Such animals live at the intersection of myth and biology – tantalising researchers with the prospect that they may be real, but eluding trustworthy documentation and closer study. Indeed, last month, Filardi waxed poetic on the hunt for the invisible beasts that none the less walk among us.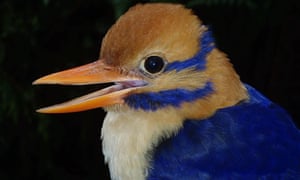 The moustached kingfisher, which had only been seen once
in the wild by scientists. Photograph: Rob Moyle/University of Kansas
"We search for them in earnest but they are seemingly beyond detection except by proxy and story,"
he wrote
. "They are ghosts, until they reveal themselves in a thrilling moment of clarity and then they are gone again. Maybe for another day, maybe a year, maybe a century." Filardi was moved because, scouring what he called "the remote highlands" of
Guadalcanal in the Solomon Islands
, he had found a bird he had searched more than two decades for: the moustached kingfisher.
"Described by a single female specimen in the 1920s, two more females brought to collectors by local hunters in the early 1950s, and only glimpsed in the wild once,"
he wrote
. "Scientists have never observed a male. Its voice and habits are poorly known. Given its history of eluding detection, realistic hopes of finding the bird were slim."
Yet, defying the odds, Filardi did just that. After setting mist nets across the forest, he and his team secured a male specimen with a "magnificent all-blue back" and a bright orange face. The discovery brought quite the declaration – "Oh my god, the kingfisher" – and led Filardi to liken it to "a creature of myth come to life". And then, Filardi killed it – or, in the parlance of scientists, "collected" it.
This wasn't trophy hunting – but outrage ensued. "Of course, 'collect' means killed, a lame attempt to sanitise the totally unnecessary killing of this remarkable sentient being," Marc Bekoff, professor emeritus of ecology and evolutionary biology at the University of Colorado,
wrote in the Huffington Post
. "When will the killing of other animals stop? We need to give this question serious consideration because far too much research and conservation biology is far too bloody and does not need to be."..
read more:
https://www.theguardian.com/science/2015/oct/17/rare-bird-killed-saving-species