Evelyn Theiss - The Photos That Caused Americans To Ask 'What Are We Doing In Vietnam?' The My Lai Massacre 50 years later
Photographs of My Lai by Ron Haeberle
This story originally appeared on
FOTO
Ron Haeberle was a combat photographer in Vietnam when he and the Army unit he was riding with - Charlie Company, 1st Battalion, 20th Infantry Regiment - landed near the hamlet of My Lai on the morning of March 16, 1968. Villagers weren't alarmed; American GIs had visited the region near the central Vietnamese coast before, without incident. But within minutes, the troops opened fire. Over the course of the next few hours, they killed old men, women, and children. They raped and tortured. They razed the village. And when Haeberle's shocking photographs of their atrocities were published — more than a year later — the pictures laid bare an appalling truth: American "boys" were as capable of unbridled savagery as any soldiers, anywhere.
To mark the 50th anniversary of the massacre, I spoke with Haeberle — in an exclusive interview, at his home in Ohio — about that March morning; the routine Army operation that devolved into a waking nightmare; and how his photos changed the course of the war in Vietnam. I first met Ron Haeberle in 2009 when I was a reporter at the Cleveland Plain Dealer — the newspaper that, in November 1969, first published his My Lai photos. I was assigned to write a story on the 40th anniversary of that landmark exposé, and while much had previously been written about the Plain Dealer reporter who wrote the article that ran alongside Haeberle's photos — Joe Eszterhas, later the screenwriter of "Basic Instinct" and other controversial films — I found almost nothing about the man who took the grisly, iconic pictures at My Lai. Was he still alive? Did he still live in Ohio?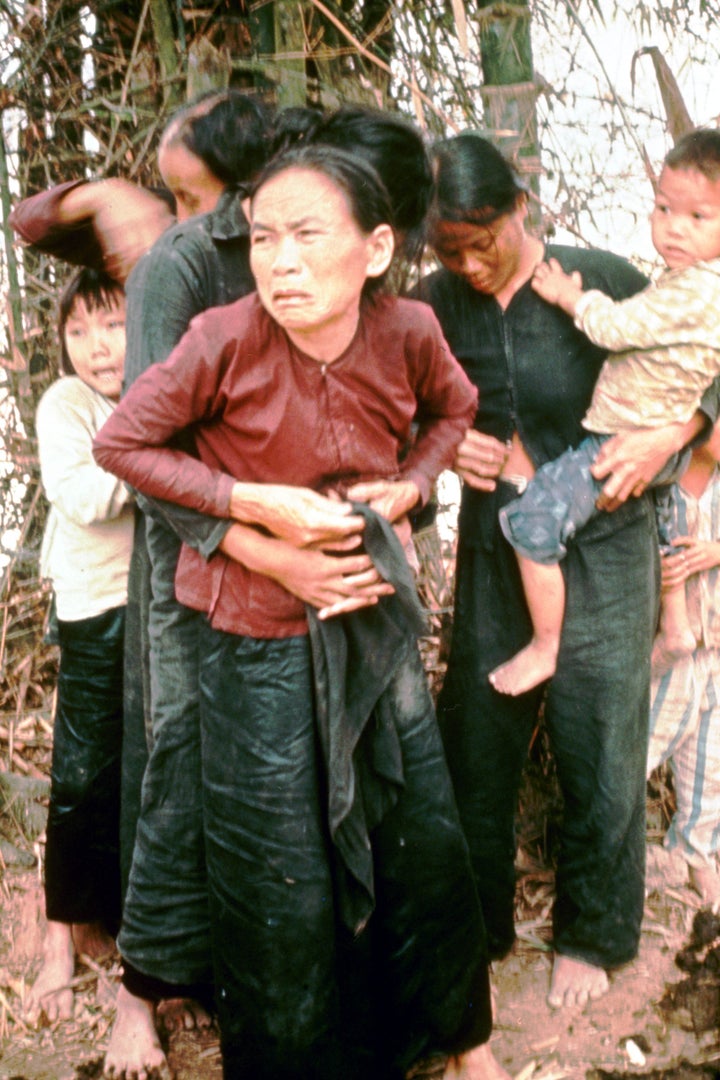 RONALD L. HAEBERLE/THE LIFE IMAGES COLLECTION/GETTY IMAGES
I found a name, address, and phone number, but wasn't sure if it was the Ron Haeberle. Knowing that a reticent Haeberle might hang up if I called, I drove to the address, knocked on the door, and introduced myself. It was Ron, all right, and he graciously asked me in. I stayed at his house for two hours, as he told me about My Lai and his own life since 1968. It was his first major interview since the story broke four decades earlier. (He gave the BBC a couple of quotes in 1989, he said, and that was the extent of his contact with the press.)
Recently, FOTO asked me to approach Haeberle and ask if he would revisit the story for the 50th anniversary of the massacre. He agreed, and he and I returned to one of the darkest chapters in American history, and his role in bringing it to light. Ron Haeberle was drafted in 1966, after attending Ohio University, where he was a photographer for the school paper. He ended up in Hawaii with the Army's Public Information Office. By the end of 1967, it was beginning to look like his "tour" would end there - a disappointing prospect.
"As a photographer, I wanted to see what was happening in Vietnam for myself," he told me. He requested a transfer, and was sent to Vietnam. At 26 years old, he was older than most members of Charlie Company, where the average age was just 20. Charlie Company had been together for about a year before Haeberle joined it in March 1968. The unit had been in no firefights, but had lost men to booby traps and land mines. When they landed at My Lai, they were primed for action; Viet Cong troops were reported to be hiding in the hamlet. That information was wrong. But in the end, it didn't matter: My Lai was doomed. Within four hours of Charlie Company's arrival, the village's huts were burned to the ground and hundreds of civilians were dead. (The exact number of those murdered is disputed to this day, with the official American estimate running to around 350; the Vietnamese say more than 500 were killed.).. read more: