It was the moment she kissed me in the sun temple that I thought, 'Oh, my God, now I can touch the sky!'" says Pradyumna Kumar Mahanandia, known as PK, remembering his wedding day in January 1976. PK was a street artist, from what was known as the "untouchable" caste, in New Delhi, drawing portraits of tourists, when he met a young Swedish traveller, Lotta von Schedvin, after she asked him to draw her in December 1975. Now, after more than 40 years of marriage and two children – they can still remember every tiny detail of their meeting.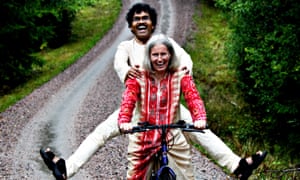 PK and Lotta in Sweden. Photograph: Scanpix Norway/Press Association Images
"We knew we had been together before – that this was just a reunion," says Lotta. "A marriage like this means you are married physically and spiritually. We know our bodies will be recycled in a few years, so we believe that we're always united in oneness." PK, who is huddled in close to Lotta as we speak via Skype, holds up a fragment of palm leaf inscribed by an astrologer and given to his parents on the day he was born. "This has run like a thread throughout my life. It says that I would marry a foreign lady with white skin who was musical," he tells me. "I knew it was Lotta as soon as I saw her."
A few days after they met, the couple made the journey to PK's home village in Orissa, in the east of India, to meet his family and get married. Although his mother had died, PK's father gave them his full blessing. But their early married bliss was shortlived. Lotta needed to get back to Sweden to continue her studies, so she climbed back into her VW campervan with her companions and began the long trek overland through Asia and Europe.
For some youngsters, intoxicated by love, and with dreams soon to be replaced by the realities of life, this might have marked the end of the affair. Not so for PK and Lotta. Letters flew between the two, sometimes delivered by other travellers on the trail who had heard their story. Still sketching tourists in his usual spot in New Delhi – "I did Swedes for free," he says, laughing – PK started planning the seemingly impossible, an overland journey of 7,000km to rejoin Lotta in Sweden.
"Flying was out of the question," he says. Eventually, he realised a pushbike might offer him salvation and bought a ladies' Raleigh because it was half the price of the men's model. Then he set off with his passport, a spare pair of trousers, a sleeping bag and a windbreak – and $80 sewn into his clothes. The first night he slept, somewhat soggily, in a rice paddyfield. He continued travelling through Pakistan, Afghanistan, Iran and onwards… read more: