NB:
Cheers! and solidarity. This is what we need across the world: non-violent mass movements to defend democracy & civil rights and to resist fascism, militarism and nation-worship -
DS
Enormous Crowds at Women's Marches Around The World
Hundreds of thousands of people marched in the historic
Women's March on Washington
on Saturday – with
more than 500,000 people
, according to initial estimates by organisers – in a stunning show of protest on the first full day of the Trump administration. Tens of thousands more joined as the day wore on, and by mid-afternoon the city's Metro system had
recorded
more than 597,000 trips.
A sea of peaceful protesters wore pink "pussy hats" and poured into the streets of downtown DC, almost certainly outnumbering those who attended the inauguration on Friday.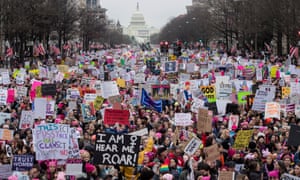 Thousands of people on Pennsylvania Avenue. Photograph: Michael Reynolds/EPA
The
Los Angeles
police department estimated that 500,000 people took to the streets of LA, although event organizers said the number of protesters was even higher,
according to the LA Times
. It was reportedly the highest turnout for any rally in the city for at least a decade.
Chicago:
Chicago saw a huge turnout, with
estimates of 250,000 people
attending. The actual march itself was cancelled due to the huge crowds, turning the event into a rally that spilled out of Grant Park.
New York:
Around 200,000 New Yorkers rallied in Midtown Manhattan, twice what protest organisers had expected. The marchers, who had to be staggered in waves because of the numbers, headed up Fifth Avenue towards Trump Tower. "What's at stake is everything you believe in," actor Whoopi Goldberg
told the crowd
.
Atlanta:
Thousands turned out for a social justice march in
Atlanta
, Georgia, with civil rights hero and local congressman John Lewis telling the crowd to "never quit", "never give up" and to get into "good trouble". "I know something about marching," he said at the end of his remarks. Lewis, who marched with Martin Luther King Jr, shook outstretched hands as he made his way to the front of the march...
see photos
https://www.theguardian.com/us-news/2017/jan/21/womens-march-washington-chicago-los-angeles-trump
Angela Mitropoulos - 'Post-factual' readings of neo-liberalism, before and after Trump
Sheldon Wolin - Can capitalism and democracy co-exist?
End of nations: Is there an alternative to countries?